×
A place for more technical discussions. Please make sure you post in the correct section on the site, this way it keeps the site tidy AND ensures you get a more relevant answer.
Replacement key with remote locking transmitter
16 Nov 2018 19:42
-
16 Nov 2018 19:43
#197709
by Bosanek
I need help to become certain about finding a compatible replacement car key with remote locking transmitter.
My Jimny was made in 2012 for south-eastern European market, and originally (most probably) had a key with integrated remote central locking transmitter.
I suppose that the key looked like this:
Anyway, the previous owner lost that key, and I now have only one key, which is a "plain" key without transmitter. Therefore, I have nothing to use remote locking system with.
I am looking for a compatible original replacement key with transmitter.
I found two interesting examples on Ebay: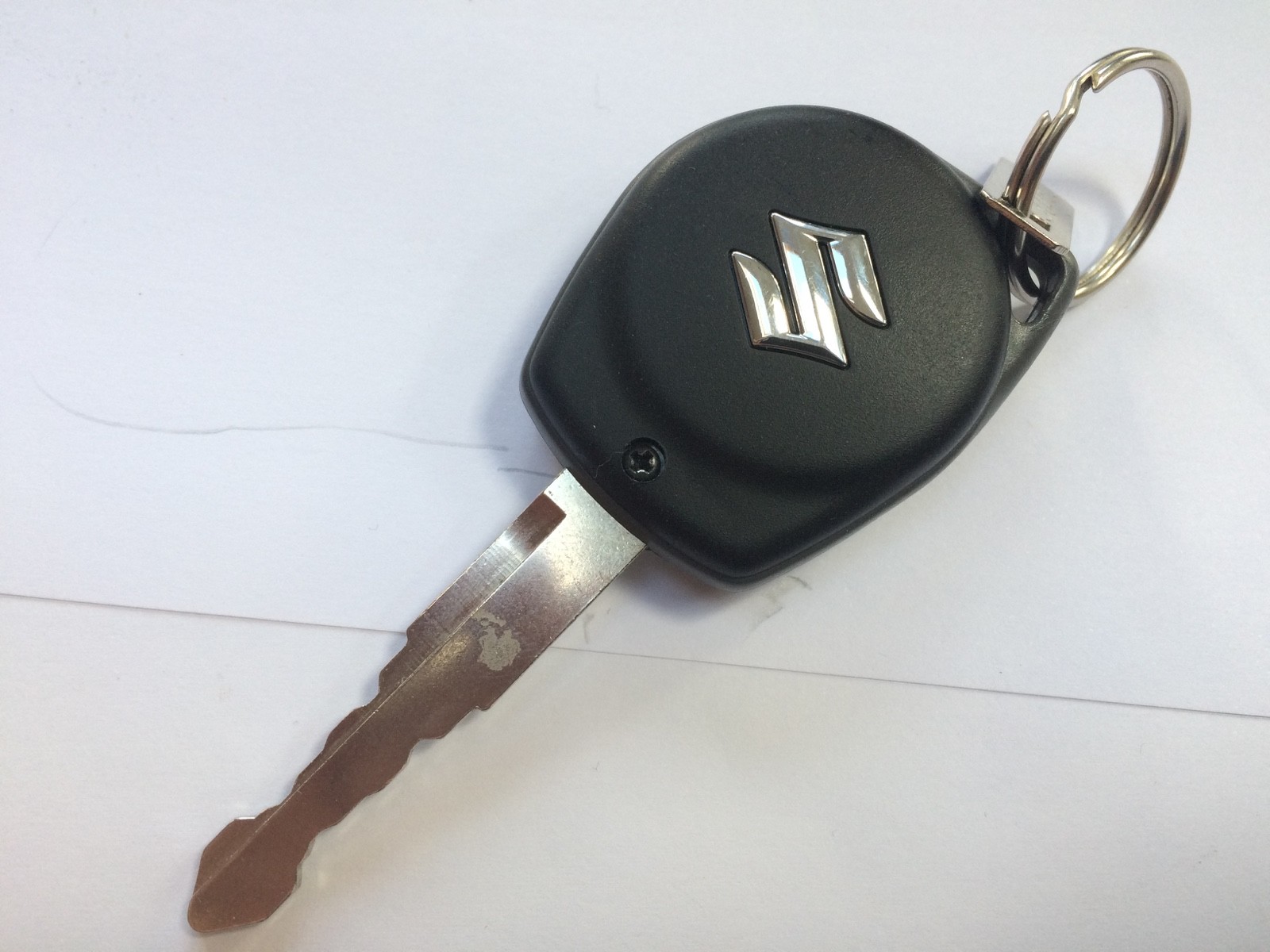 Suzuki 2 Button Remote Key Vitara Swift Jimny
Completed
The first one has uncut blade which needs to be cut, while the other one has an already pre-cut blade, so that blade would need to be replaced with a new uncut blade and then cut that one. However, both keys have already been programmed for a specific vehicle - they are second hand.
It appears that replacing the blade with a new uncut blade and cutting an uncut blade is not a major issue - almost any locksmith can do it.
However, I am primarily concerned with the issues of programming the electronics inside the key and especially the remote (un)locking transmitter.
I called my local Suzuki dealer, and their employee said that it is impossible to reprogram an OEM Jimny key or its remote (un)locking transmitter once it has been programmed to a specific vehicle. In other words, he says that it is impossible to reuse a second-hand key from one Jimny to another.
However, the other Suzuki dealer did not mention this, as a matter of fact, they said that nobody except the factory can program the keys .... while a third Suzuki dealer said no problem, we'll figure something out, just bring all the keys and the car ... for 230 kilometers one way ...
So, my question is:
Can any of those keys from Ebay be reprogrammed to fully work on my Jimny (to start the car, to use the door locks and tp use the remote locking)?
Last edit: 16 Nov 2018 19:43 by
Bosanek
.
Please Log in or Create an account to join the conversation.
17 Nov 2018 07:08
#197715
by Riccy
Im sure I read someone was matching the central locking part of the key to the car by cycling the ignition on & off 20 times. Never tried it though

The immobiliser chip would be a different problem and need the dealer I think.
---
J999 MNY, ULYSSES M18 VVT with ITB's Dyno tested at 130hp

Pickup/tipper, R7me gearbox & 4.3 Rocklobster, 31" Toyo MT, 2x ARB 3.9 diffs in braced axles, 6" total lift, Floating rear conversion, Raptor painted, CB, Recaro's, Caged, etc, etc...

www.youtube.com/user/riclemus
Please Log in or Create an account to join the conversation.
17 Nov 2018 13:38
#197719
by Delux
The dealer can program an unprogrammed key to a car but once it has been programmed to one car it cannot be programmed to another.

If the Suzuki dealer supplies a new key the chip inside it is blank. Using their computer they have one chance to write the information onto the key. Suzuki use 2 passwords, one which changes every 6 months and one that is specific to the model they are working on. In addition, the computer must have the magic Suzuki security usb connected when programming.

I would imagine the keys supplied on ebay could be programmed by your local Suzuki dealer if they were cut to fit your cars locks. As new keys the chips will be blank. The thing is, as they didnt supply the key themselves, they are under no obligation to do so. Providing no-one has programmed the key all dealers should be able to sort it.

Like most things on ebay, there are good parts and bad. Assuming you bought a key, had your dealer program it then after a few days the chip in the key failed. Who would be liable?

As far as I am aware, only the dealer is able to program a Suzuki key to the car. I know there are key places who can supply car keys ready programmed but to do that they need a ready programmed key to copy the programming off.
Please Log in or Create an account to join the conversation.
18 Nov 2018 07:11
#197738
by kirkynut
I do not know the answer but in my experience you will not be able to change the blade, so a second hand key is no good to you.

If you get a genuine blank key I think a good locksmith will be able to code the immobiliser part and there will likely be a video on YouTube telling you how to programme the key to the car for the remote central locking.

Otherwise, how much does the dealer want for a new remote key all working? It might be worth the cost.

Kirkynut
Please Log in or Create an account to join the conversation.
18 Nov 2018 08:01
-
18 Nov 2018 08:06
#197740
by MatBat
Hi took this journey recently. Suzuki wanted £300 per key (I wanted two remote keys). Tried finding a generic and none of the local locksmiths seemed interested.
I decided to go down a different route and fitted an aftermarket Keyless entry system with push button and remote start.
Cost was £120 and the keyless entry function is so handy (arms full of toddler and shopping etc.)
Well worth considering if you are not adverse to going aftermarket.
www.amazon.co.uk/dp/B01HRS87N4/ref=cm_sw_r_cp_apa_4Vr8BbCXHFXR9
Edited to add: if you do get a Suzuki key you will need the both match up the correct blade profile but also the transponder chip. It will probably be an ID65 or ID46.
Last edit: 18 Nov 2018 08:06 by
MatBat
.
Please Log in or Create an account to join the conversation.
18 Nov 2018 11:07
#197747
by zukebob
Matbat: That system is interesting. If you have time to post some pictures, I would be interested in seeing how you integrated the push button start and keypad.
---
I started out with nothing & still have most of it left
Please Log in or Create an account to join the conversation.
01 Dec 2018 20:28
-
01 Dec 2018 21:19
#198502
by Bosanek
Thank you all very much for all of your support and information.

Unfortunately (or perhaps fortunately), I had already bought a second hand (but almost unused) original Suzuki key with integrated remote transmitter before I read what Delux wrote.

The key is still on it's way to me.

However, two Suzuki dealers in my region told me that they can reprogram a used (already programmed) transmitter and immobiliser in a key, and that I will only need to sort out the issue of getting and cutting a new blade at any capable locksmith.

Both of those Suzuki dealers are a bit far away (200 km in one direction) and I have to visit them during working days because they have to do the reprogramming while the master Suzuki factory in Hungary is open (direct data link to the master factory is required during reprogramming and the vehicle has to be present at the dealer).

Since I got this key for about 20 EUR, and the programming will cost me about 40 EUR, I might be on a win here. Compare that to the quote of almost 200 EUR for a brand new key + programming from the dealers.

Anyway, I will report what happened - whether Delux's statements about not being able to re-program a used key is true, or if they really can do it. I just have to get a free day from work and make it a single-day holiday trip of 400 km in total and find some cheap petrol ...
Last edit: 01 Dec 2018 21:19 by
Bosanek
.
Please Log in or Create an account to join the conversation.