1 minute reading time
(191 words)
Stabiliser/Drop Link - MOT Time
​So the MOT time is approaching for "LittleJimny" and we knew that one of the stabiliser links (or drop links) is bent and leaking grease.
It is a straight forward process to change these although inevitably occasionally things get stuck.
Here is the old link in position, all you have to do is undo the two nuts securing it.
​
As they are swiveling joints you have to stop the joint rotating in order to undo the nut. The end of the "bolt" has a hex socket cut into it so you can hold the joint still whilst undoing the nut. It is likely that the old joints on the car have this socket filled with dirt and mud so you will have to poke around with a sharp instrument to clear it. The picture below of the new one shows more clearly the use of an Allan Key to hold the joint still. I had to cut one of the old ends off with an angle grinder due to some damage.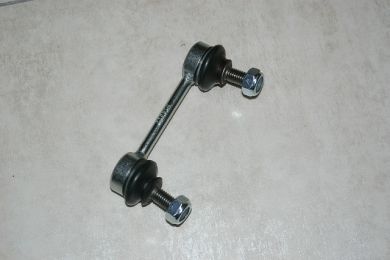 Parts for Suzuki Jimnys Suspension and Spring Lift kits for 4x4s Toy
Related Posts
By accepting you will be accessing a service provided by a third-party external to https://www.bigjimny.com/